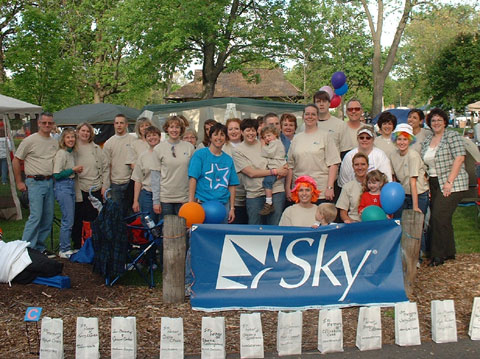 Friday night was the BG Relay For Life at City Park in Bowling Green. Around 6:45pm, the Sky Team gathered at our campsite for a team photo. Had I realized that the team photo wouldn't actually be posed, I might have taken a little more initiative to assist in posing people… but, especially as a first-year team member, and as I didn't know the person heading up the photo, I didn't feel it was my job to get the people in back to move up front where they could be seen.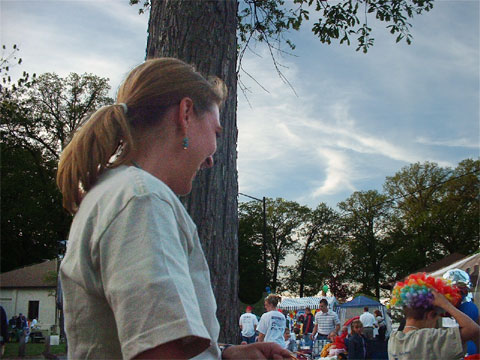 The Team Captain for the Sky Service Centers was Gena Bzovi, who works in my department.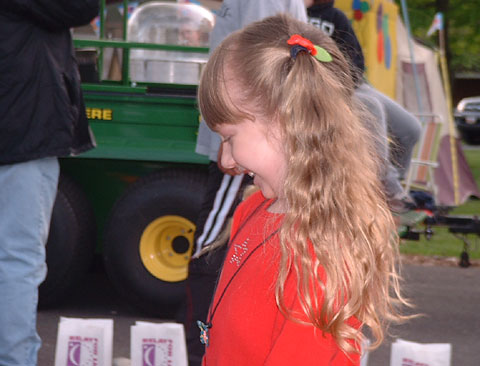 Gena brought along her daughter, Anna, who was absolutely adorable. She starts preschool next year.
Aaron tried to be a good sport, but after a while he just went insane with boredom. I tried to help out and would take him for a lap around the track whenever he started to foam at the mouth. That seemed to work (for both of us).
Here's Aaron looking a little more normal.
Relay had a circus theme this year, so there were several random clowns around City Park.
Some people sported big clown bow-ties…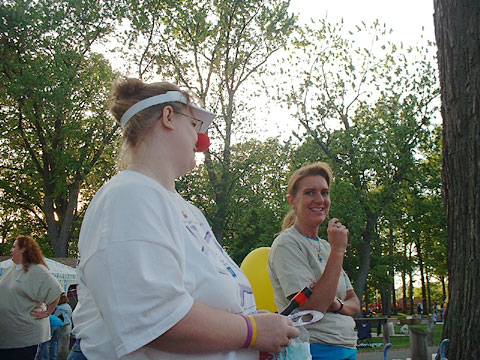 Tina (also from my building) got herself a clown nose from one of the booths…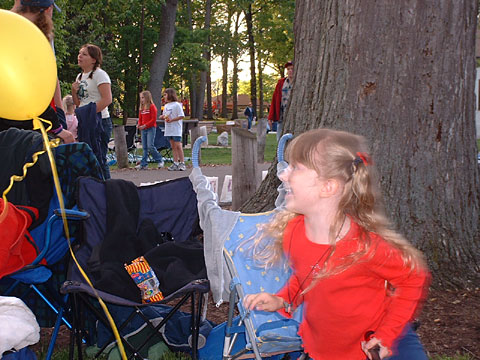 …and there were balloons aplenty to keep the kids occupied.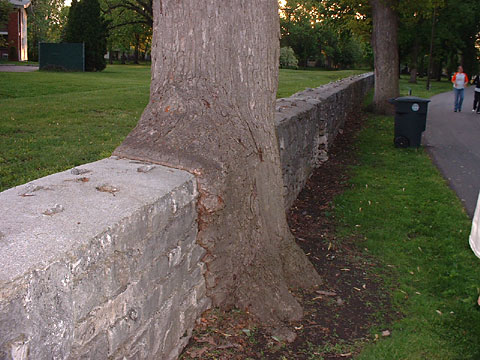 On one of our laps, Aaron and I noticed this error in planning on the part of the park planners. Luckily, a stone wall is no match for a growing maple tree. Still, though, the sight of a wall going through a tree—or, conversely, a tree growing around a stone wall—is bizarre.
Overall impressions: It's all for a good cause, certainly. I'm not sure I'll be walking next year, though. Were I a high school or college student, and more inclined to stay overnight, this could almost rival Dance Marathon for fun factor. (I was never in Dance Marathon myself, but that's the impression I get, anyway.) As for myself and Aaron, hanging around City Park for three hours, walking laps and eating chicken and knowing exactly two people in the entire Sky team to talk to, it wasn't fun. It was for a good cause, and I'm glad I know what it's all about, but it wasn't fun for us.
I'll still continue to donate to Relay next year, though. There's no doubt about that. They raise a good deal of money for cancer research—over $27,000 $148,000 this year. I'm glad I had the opportunity to be involved.