Mid-May is a time of excitement in my NW Ohio garden, because the late-spring crowd is almost ready to bloom. The peonies and the poppies are leafing out nicely, the roses are breaking dormancy, and the leaf buds on the summer bloomers are just starting to break.
Of course, a few plants have already peaked and faded. My volunteer viburnum has already bloomed and faded, and now I'm trying to decide when would be a good time to move it to a better location.
The Dwarf Flowering Almond only bloomed for a scant few days, and I was lucky to get a photo of it in its prime.
My unidentified red single peonies had some sad, wilty blooms for a few days, too. They're early bloomers — weeks earlier than my pink and white double peonies — so maybe the early-May temperature swings from spring to summer and back to winter threw them for a loop.
I had a landscaping company come to my house this month and re-cut the edges of my beds and borders in the front of the house, remove the turf that had encroached over the past year or so, and add some dark mulch. It was well worth the money, as I have neither the time nor the equipment to do it up right. I do wish they hadn't had to use Round-Up on my beds, but so be it.
While the main landscaper was preparing his estimate, he took one look at my dogwood tree and proclaimed that it was "on its way out." I knew that already, of course, but I didn't know that it was because of dogwood borers. My plan is to enjoy it while it still blooms, then have it removed and replaced with something similar when the time comes.
For now, it still provides some nice framing for the front of my house.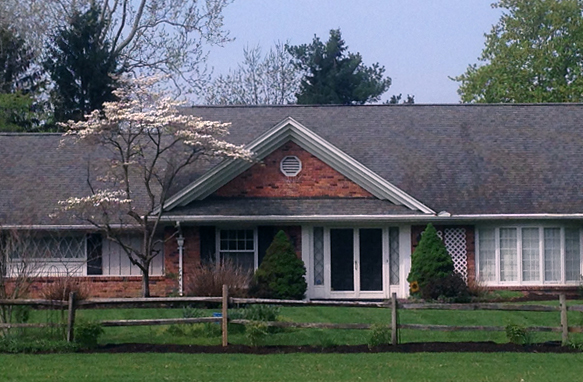 I absolutely love my variegated Solomon's Seal, but it's not in a place where I can really enjoy it.
Same with my dead-or-dying rhododendron, which is currently putting out a few greenish flower buds on its sparse branches. They're both currently tucked into an odd corner, behind a Rose of Sharon and a mophead hydrangea, and I only see them when I intentionally go on a little tour of my property. I'd like to move or propagate them both into my garage bed, which is kind of a blank slate right now — thankfully, a weed-free, freshly-mulched blank slate.
Nearly blank, anyway. I have this beauty in bloom, and up until yesterday, I still didn't know what she was. Thanks to Prairie Rose's Bloom Day post, though, I finally learned that this is a Camassia. She's spread to a few weird places, so I'll probably mark these and consolidate them this Fall for more impact.
I've got this patch of white flowers in the garage bed, too. First I was told this was creeping heather, then I was told it was purslane, but I'm not confident in either assessment at the moment. Either way, I like it right now.
The alliums in this bed should be popping up in short order, as well, unless the fresh mulching smothered them somehow. Hopefully, I'll see some lilies and a firepoker soon, too. This bed is also home to some gooseneck loosestrife, which is poking its leaves out of the mulch; a David Austin Heritage English Rose which seems to have weathered this winter much better than the last; and a couple of hydrangeas, which are leafing out on existing canes instead of all from the base, which makes me happy, too.
(Yeah, that's a lot of established plantings for a "blank slate," I know. It's only really half-blank, now that I think about it.)
Out front, along the fence by the road, the clematis and the peonies are getting ready to bloom.
Out back, in the early spring border, the grape hyacinths have faded — seemingly overnight — but the brunnera are still out in full force, some lamium have snuck unwanted in amongst them, and the alliums are adding some welcome height.
I do love lamium as a ground cover, even if it creeps in where I don't want it — a nearby bed in back has pink, purple, and yellow, and we have a border of purple lamium flanking our front door.
The tree peony already has one open bloom deep within its branches (edit: make that two — another bud opened overnight after I wrote this), and I'm expecting several more to open up in the next week or so. I love this tree peony, and I'll be so sad once it finally succumbs to old age.
I was surprised by some phlox in one of my side borders — I didn't notice the phlox until much later in the season last year, so I thought it was exclusively a summer bloomer. Guess not!
Next month promises to be just as bloom-filled as this one. As always, thanks to Carol at May Dreams Gardens for hosting Garden Bloggers' Bloom Day!