'Tis the season for warmer jammies!
Last fall, I fueled my new-found sewing obsession by making my son a season's worth of jammie pants. This fall, he needs some new jammie tops, since all of last year's long-sleeved commercially-bought tops have become belly shirts.

While I have several commercial pajama patterns I haven't tried yet, I really have fun with adapting free patterns online to suit my needs. In this case, I used a free t-shirt pattern from Life Sew Savory I'd already sized for my son, and modified it with raglan sleeves using a helpful tutorial from Melly Sews.
I'd been wanting to make Connor a coordinating top for last year's cat pajama pants, so I opted to mix the woven lightweight rayon voile (originally purchased from Fabric.com, but no longer available there) with knit leftovers from old t-shirts and some rib knit for the collar. (I also let out the hem in the pants, since they'd always kind of been high-waters on him.)
As always, this first go-around of a new-to-me pattern mod hit a few speedbumps. The biggie was that I made assumptions about how much my son had grown in the past year without measuring him. Hence, he now has a roomy pajama shirt with a too-wide neckline because Mom didn't measure the ribbing quite right, either.
Overall, though, I think these turned out just fine. They were a good first go at raglan sleeves (well, the second, counting the sleeveless raglan tee I made him this past summer), and I know what I need to do for the next one.
…I have some super cute knit interlock fabric coming this week, specifically for jammie-making purposes.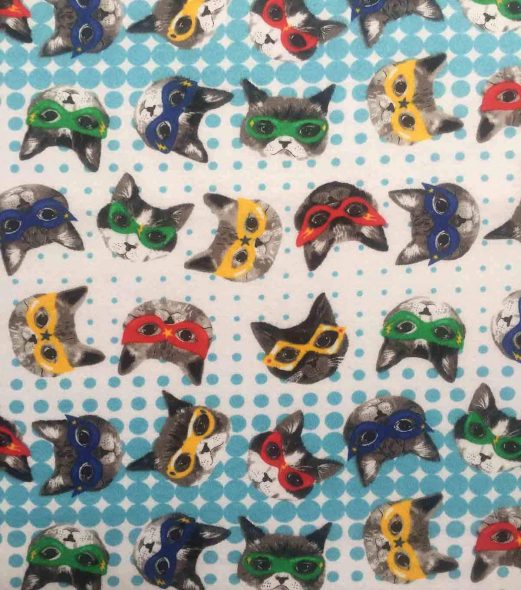 Hopefully, once my son has a stash of warm jammies, I can work on my 2019 goal of making three business casual pieces for myself… but maybe not with the cat fabric.