Category Archives:
family

[Taken 17 June 2016]
My 80-year-old camera would choose this particular frame to slip and overlap the next frame, so that the resulting photo isn't the standard square format — and didn't get automatically scanned and uploaded by The Darkroom. Glad I still have my trusty Epson Perfection V700 Photo flatbed scanner on hand.
Not the best camera for portraits — and I didn't exactly get the color adjustments quite right  in post-processing — but, like I've said before, I appreciate a slightly quirky camera. Plus, I got enough snaps with my iPhone to make up for one wonky film portrait.
Today's idea: a personalized t-shirt for my son with a genealogy ancestor chart on it with his Irish ancestors marked in green.
Because I'm feeling just a little bit lazy on this New Year's Eve, and I know that I'm likely to turn into a pumpkin long before midnight and would like to spend some time with my husband before that happens, instead of posting thirty-some photos individually with carefully thought-out captions, I present a Flickr slideshow of Christmas 2015 at the Schnuth abode.
Happy New Year, all, and I'll see you in 2016.
This year is our 14th Christmas together, our 12th with Mei Kitty, our 5th with Connor, and our 3rd in this house. t.co/bOkOkwPvlH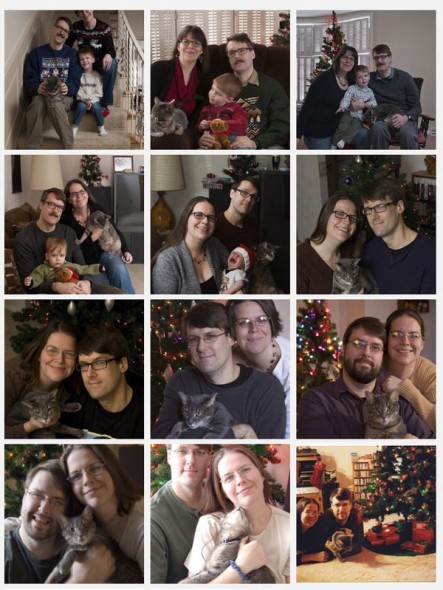 Merry Christmas 2015 from all of us to all of you!
Thanksgiving 2014 was largely undocumented online, save for one tweet and a couple of photos. The long and short of it is that then-three-year-old Connor puked in his car seat in the middle of our 2.5-hour car ride to Grammy's house, then proceeded to deposit liquid poo in his diaper while we were at Thanksgiving, such that we worried that we'd be out of extra clothes (and possibly diapers) by the time the day was done. Then, as we drove home, the roads iced up and we skated across a couple of bridges after we got off the turnpike.
Thankfully, this year was much less stressful.
My brother-in-law had to sit this year out, due to feeling a bit under the weather, so it was just the core Schnuth clan heading out to Grammy's house.
Before we left, I did note that the Thanksgiving cactus was preparing for its annual display (despite it being in a much-too-shallow container and being dusty as all get-out).
We left a little later than anticipated, so dinner had been ready and waiting for a while once we arrived. Mom took a picture of us before we tucked into her delicious meal.