Category Archives:
gardening
trying not to kill the beautiful things
Technically, Bloom Day was two days ago, but better late than never, yes? I actually did get out to take these photos on the 15th, but didn't get around to posting them until tonight.
Here in my NW Ohio Zone 6 garden, spring seems to be a good week or two ahead of schedule. One day last week, all the spring bulbs decided it was time to bloom. (I mean that, too — I left for work at 8am to tightly closed daffodil buds and came home at 5pm to a yard full of nodding yellow heads.)
I don't know what all these varieties are, as they came with the house when we moved in some four years back, but here they are:
(more…)
You may be pleased to note, @relysh, that I will be continuing your tradition of sharing tomato plants at work. I maded too many maters.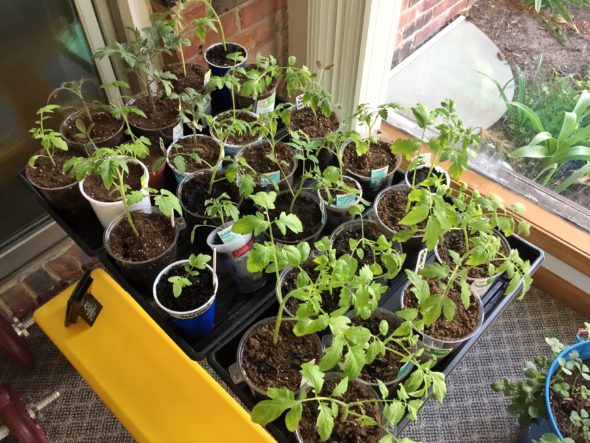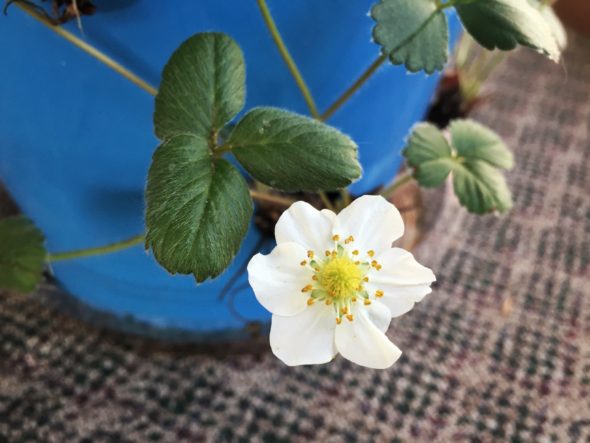 I brought my strawberry bucket into my unheated sunroom last fall to overwinter. These beauties must be enjoying the greenhouse effect of the windows, as they're already in bloom, just as the daffodils and hyacinths and cherry blossoms are doing their thing outside.
I did a little research to learn whether strawberry plants need pollinators, and the answer is — not really? The dark yellow bits need to come into contact with the light yellow center, whether by wind or other means. One gardener wrote that he usually rubs two blooms together, but that some people use a paintbrush to get the pollen where it needs to go.
After I took this photo, I pollinated the blossom by kind of pushing the pollen into place with my fingers. The next day, the petals were dropping and the center part was getting ready to strawberry itself.
Might be an extra bit of work on my part, but if I keep the strawberry bucket in the sunroom, I won't have to worry about birds eating my damn berries.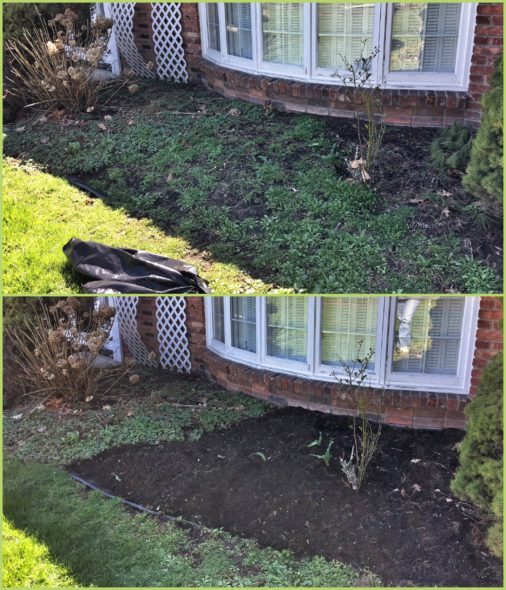 I only spent two hours weeding and cleaning up today, but I could easily have spent all day, if I'd had the time.
My main goal was to clean up the "tulip bed," above. I call it the tulip bed because I planted some couple dozen Angelique peony-flowering tulips in the border a couple autumns ago. Last spring, deer ate the tops off of two-thirds of them. Earlier this spring, deer and other wildlife just straight up ate the bulbs right out of the ground. I have about six left, and I intend to use this photo as a reference for where I should plant some more bulbs come this fall.
Anyway.
I spent some quality time weeding here, then pulling up last year's stems of Solomon's Seal in the next border over, along with pulling the most egregious of the weeds there. I also swung through the front garden (what I pompously call the Cottage Garden, although it really looks nothing like one yet) and did some spring triage: pulling up skeletons of last year's annuals, making sure weeds don't choke out new growth from peonies and yarrow, that sort of thing.
I'm planning a gardening morning off of work in a couple of weeks, but I'm chomping at the bit to get out there and tackle some more tasks: plants I'd like to move, more weeding, some pruning, etc.
When we moved into this house four years ago, I didn't exactly go from zero to gardener in a season. It took me a year or two to ramp up and grow into it. Now, though… this is a full-fledged hobby of mine, disguised as yardwork.
I decided over the winter that I need to move all the plantings out of my current rose border and let it grass over. I have more borders than I can manage, honestly, and that one just doesn't have the impact that the others do. So, two unidentified white climbing roses and one Dortmund climbing rose need to find new homes, plus a hosta and a smattering of white irises that I only recently divided.
This morning was the perfect day to move a rose: cool and overcast, with the forsythia in bloom, coming off of a few solid days of soaking rain.
That doesn't mean I wasn't still nervous as hell. I've never moved a rose before, and I didn't want to kill my favorite long-bloomer. But I went for it, anyway.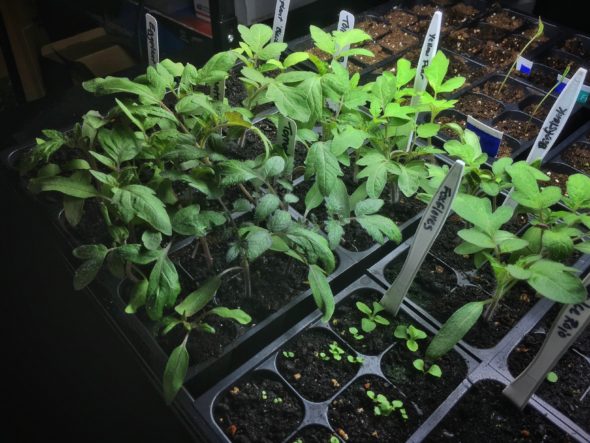 Looks like it might be time for some of these fellas to move into a bigger home.
The mercury rose unseasonably high in February here in northwest Ohio, Zone 6, and I feared for some of my earliest risers. In what I've dubbed the Early Spring Border, where I can see muscari and daffodils and hyacinths and alliums from my kitchen window, things are definitely moving along earlier than usual — but, thankfully, in this border, only one very early blooming dwarf iris felt the wilty brunt of this week's snow.
This is what it looked like on February 25. Today, it's a sad, floppy thing.
(more…)
The tomatoes and eggplants are going gangbusters, the sage and thyme and foxgloves and lemon balm are peeking up, and today was the basil's turn.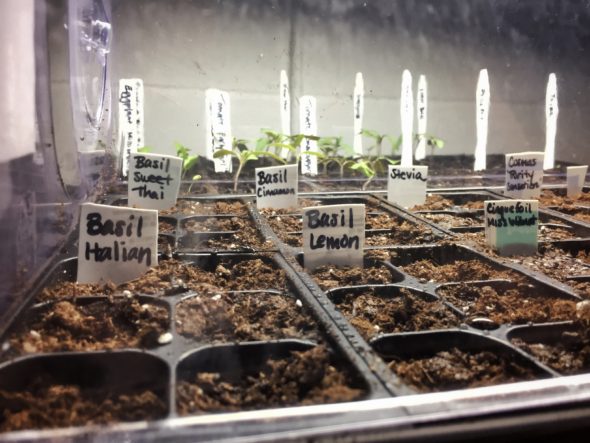 Technically, today I started four varieties of basil, plus stevia, cinquefoil, and cosmos. Tomorrow (after a 24-hour soak), I'll start the white coneflowers.
I put the new seeds under a humidity dome. I wish I'd gotten a shorter one, since I'd like to have my light closer to the seeds so they don't get leggy, but I guess I'd have had to put the light that high to reach both trays, anyway.
So far, only the paprika peppers have failed to germinate, and I haven't given up on them just yet. Gardening season is getting off to a great start!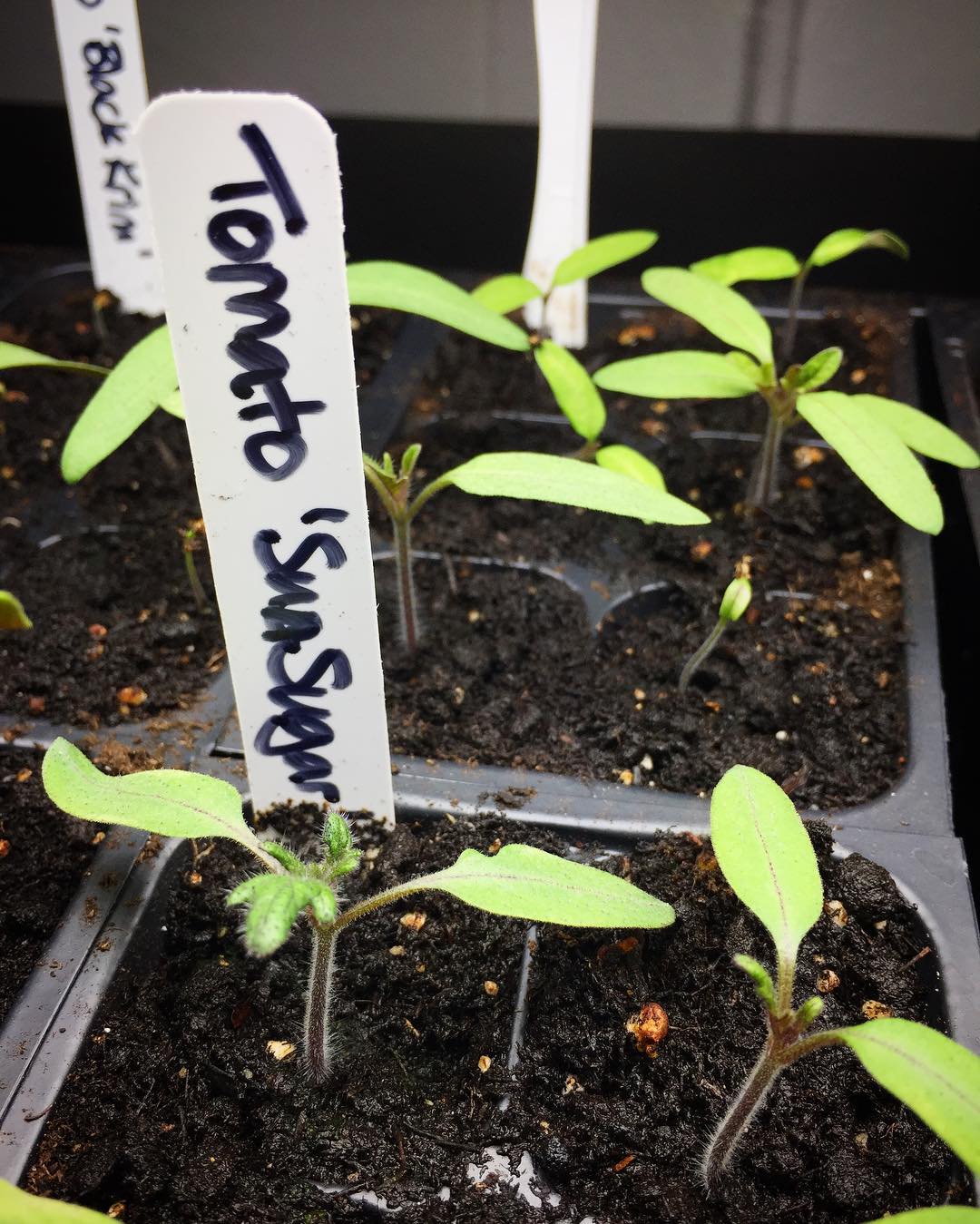 I am pleased with my tomatoes' progress.