Category Archives:
parenthood
Reading Superfudge to my kindergartener was going great — until we read Chapter 10 tonight and I had to real quick skip some pages that dealt with a truth about Santa that I'm not ready to reveal. Such are the risks of reading a 4th-grade-level book to my six-year-old.
This is the year.
It's finally time to go on a family vacation.
I know that other families with young children go on vacations all the time, whether it's a road trip to Disney or a plane trip to a Sandals resort. That wasn't the right choice for us, though — that wasn't how we thought of vacations. We were used to exploring, letting fate guide our experiences — things like finding our way back to our hotel in Tokyo via the subway system, or walking 45 minutes (one way) from Waikiki to an anime/toy store on Waialae (granted, that was a poor idea), or going snorkeling or parasailing for the first time.
I had to pick him up before lunch on his 100th day of school for a doctor's appointment, which led to a trip to the lab, after which we stopped for lunch at a place that used to be a lot speedier for dine-in service than it is now. As a result, he missed both gym and music class… but he was excited to eat lunch with me, anyway.
Right after I snapped this "Hey, Connor" pic, he gave me a grin and a thumbs-up that I failed to capture. So it goes.
Yes, he is wearing a homemade 100 Pikachus iron-on t-shirt, fabricated by Yours Truly.
"Hey, Mom," Connor (age 6) asked, as we ate lunch at the kitchen table last week. "What's 'religion'?"
I wondered where he learned the word, and where this was going, but I answered him as best I could.
"Religion is what a person believes about how the world was made and where we come from. Some people believe that a god created the earth, and some people believe it was science." ("Science" is the umbrella term I tend to use with him for natural law, physics, astronomy, electricity, etc.)
"We believe that there is One God," he said in that tone of voice I knew well — the same tone of voice I used to use when I would say, "We believe in God the Eternal Father, and in His Son Jesus Christ, and in the Holy Ghost." I suspected that he'd actually absorbed some of the religious sidebars at his old preschool, after all.
"Actually," I interjected, "Your Dad and I believe that the world was made from science. Who believes that there is One God?" I was trying to figure out where he got this phrase.
He paused. "All my friends," he answered.  (more…)
To start off, here's a link to a Flickr album of our Christmas Eve and Christmas Day festivities (since the embedded slideshow feature seems to be broken). For more details of the festivities, read on…
Connor convinced me that late Saturday morning would be a great time to head to the park. We ran through leaf piles along the paved trail, then took a nature walk through the woods (and got a little turned around on the purple trail, which didn't take us back to the playground like we thought it would).
We found a tree stump that looked like a tooth…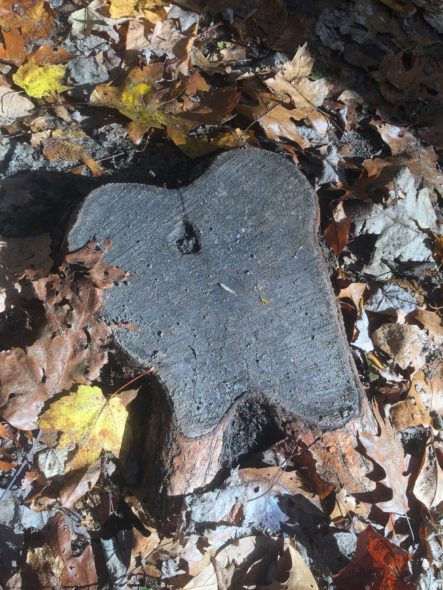 …and Connor climbed a weird bulbous outgrowth on a tree we came upon while we were trying to get back to where we started.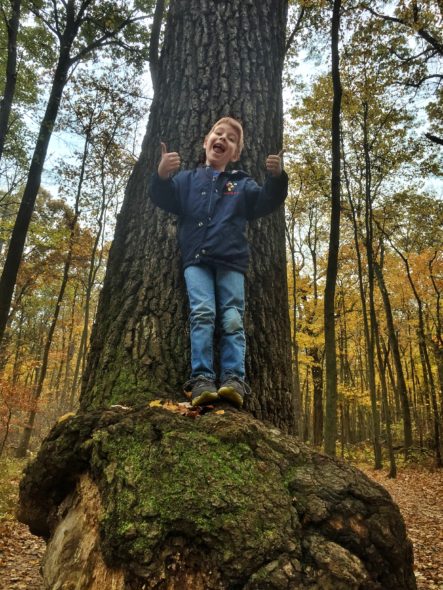 Eventually, I acquiesced to giving him a piggyback ride to the trailhead. Then he wanted to explore the visitors' center before we headed home for lunch — which was totally awesome, because I hadn't realized there was an indoor area for birdwatching. Definitely going to be checking that out again.
That park trip with Connor was probably my favorite part of the weekend… purple trail confusion and all.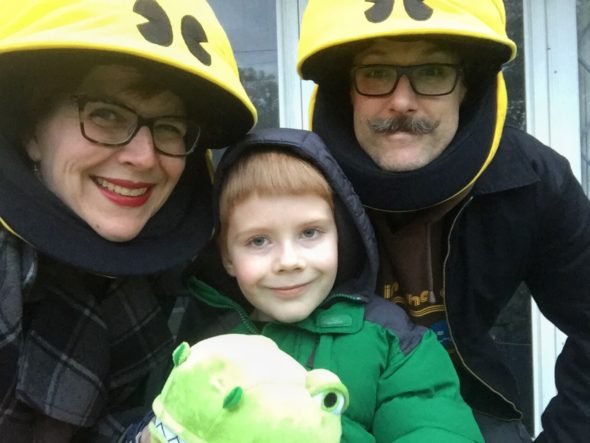 The neighborhood was so generous with their Halloween candy — full-size bars, giant handfuls of fun-size treats, and double-dipping into the candy bowl — that Connor's pumpkin bucket was full after only half an hour of trick-or-treating.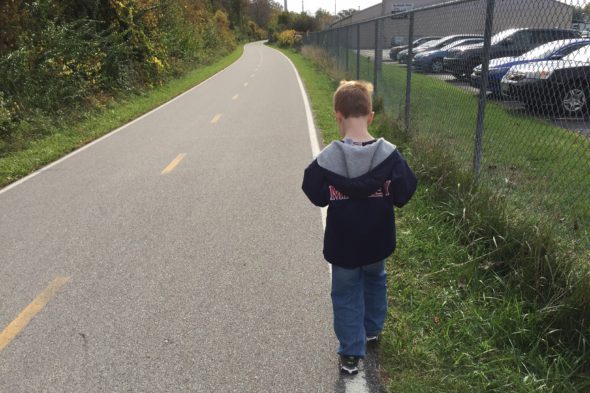 Connor only agreed to take a nature walk with me today if we could take turns photographing nature with the film camera I brought along.
My son will sometimes pretend he's The Flash, or Sonic the Hedgehog. He loves to run.
So, when I learned that our school district was hosting an Elementary Cross-Country Series, I knew I had to sign him up.
Unfortunately, we had to miss the first meet of the three-meet series because that was the day Connor had his annual checkup and flu shot — firstly, I couldn't justify both coming in late to work for his appointment and leaving early for his cross-country meet; and secondly, he was hobbling around all day on his flu shot leg, so having his first-ever race on a bum leg would not have been a good experience.
I brought my "good" camera with me to capture Connor's first-ever actual race, the second meet of the series.