TIL my old Konica Minolta DiMAGE X50 (with the underwater case) is so old that it doesn't recognize SDHC cards.
It never ceases to amaze me how much can change in just half a year. Since you started kindergarten, you've changed so much already.
Heard the first robin of the season this morning. My eyes followed the sound to the top of our maple tree, and spied the robin sitting amongst the budding branches.
Spring is on the way.
To prepare for February's cooking adventures, I spent some $100 at our favorite Asian grocery / Korean restaurant combo, buying ingredients I couldn't pronounce. I even had to ask for help finding the last half dozen or so items on my list, like specific kinds of seaweed and dried mushrooms.
But it was worth it. It was so worth it.
Last year, my Zone 6 garden had an especially early spring; by this time, I was seeing crocuses and reticulated irises in bloom, and fat buds on the hyacinths. Even the year before was an early spring — crocuses of yellow and purple had shown their colors, although I hadn't yet planted the irises.
This year, things seem to be proceeding at a more normal pace — maybe even a bit behind the average. My usual early-blooming yellow crocuses are nowhere to be seen, and the only color (besides green) in my Early Spring Border are these two reticulated irises.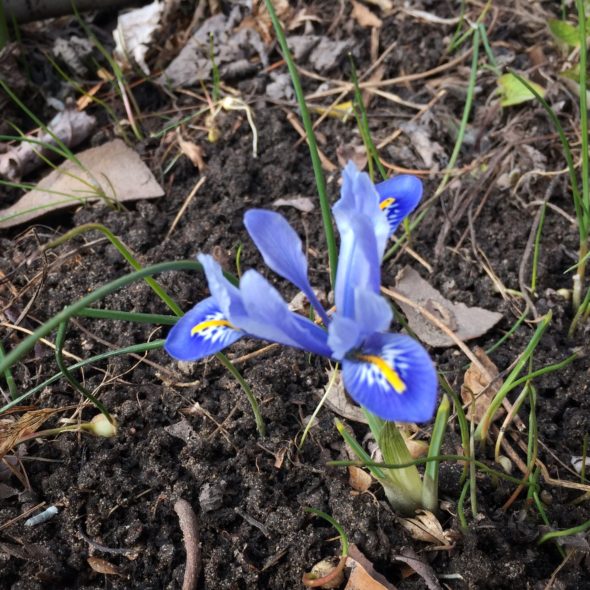 Although these are the only actual blooms so far, I can see the leafy green promise of daffodils, alliums, hyacinths, muscari, peonies, and a few tulips.
These next few weeks are when the garden really wakes from its long winter slumber. I'm looking forward to enjoying some less-frigid weekends outdoors, doing some spring cleanup and preparing the beds and borders for their chance to shine come April and May.
As always, many thanks to Carol at May Dreams Gardens for hosting Bloom Day on the 15th of each month!
I'm the first of my department to arrive at work again today. I literally laughed out loud as I walked down the empty aisle of cubes. The boss and one other employee are on vacation, but everyone else must just be having a morning.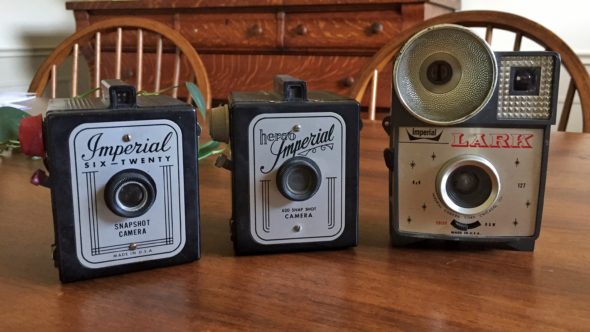 I found these three Herbert George cameras at the antique mall last March. I paid $37 for all three, which was more than I'd usually pay per box camera, but I have a soft spot for Herbert George Imperial cameras for some reason.
The Herco Imperial and the Imperial Six-Twenty are clearly identical rebranded cameras, but I couldn't pass up the chance to see how two "identical" cameras would compare to each other.
I loaded up the Six-Twenty last April for a test run, and discovered that it does not accept 120 spools; the spools are too tall. Some suggest sanding down the ends of the 120 spool, but instead, I respooled a roll of Ektar 100 onto a 620 spool. I suspected film plane issues right off the bat, as the tension seemed off while winding on — so much so that the bottom of the take-up spool kept coming unseated. Luckily, my fears were unfounded.
I lived in Florida as a kid, and not only do I remember this commercial, but I also went to Silver Springs with my Girl Scout troop in 4th or 5th grade. Glass bottom boats FTW! t.co/7k5JnrvKoe
Reading Superfudge to my kindergartener was going great — until we read Chapter 10 tonight and I had to real quick skip some pages that dealt with a truth about Santa that I'm not ready to reveal. Such are the risks of reading a 4th-grade-level book to my six-year-old.