This is my new avatar / profile pic everywhere: my son's rendition of me on my 41st birthday card.
Can't head up to bed quite yet. Non-lap cat on lap.
There's not much to say that I haven't already said, as far as my weight loss journey is concerned. My weight is creeping up and up and I don't like it. It's mostly attributable to evening snacking, although I'm sure other factors come into play, too (like my waning workout habits).
I'll be in the right headspace for a few days, then I'll eat something that triggers me to binge, and then it takes me a few days to find any fucks to give — and by then, even more damage has been done.
Because it's worked before, I'm going to photojournal my meals for a while. I'm not sure where I'll post them, or at what frequency — daily on Facebook, weekly on my blog, or daily on Twitter (which feels like talking out loud to no one in particular at a loud party), but I need to post it publicly for added accountability.
Here's today's meals — and yes, I'm seeing a distinct lack of fruits and veggies here. While I'm trying to ramp up my protein intake, that doesn't mean I should ignore plants. I'll work on that.
I need to get and stay in a healthy headspace. I'm starting to feel extra frumpy and puffy and not at all awesome, and I miss that awesome feeling and I want it back.
This sucks.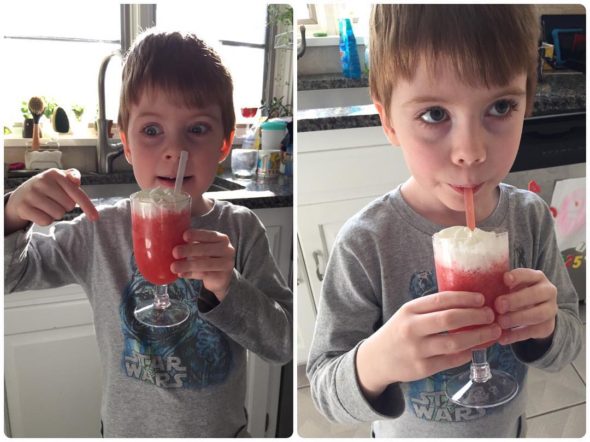 He created the recipe in his Smurf Recipes app on his Kindle Fire. It honestly wasn't very delicious — berries, water, and ice, topped with Reddi Wip — but a packet of Splenda made it more palatable.
I completely forgot that I hadn't tested this camera at all after I'd tried unsuccessfully to get the light meter to work after I first bought it on eBay in August 2015. I got a mighty good deal on it, due to its cosmetic condition. The dings and dents and missing cosmetic bits don't really bother me so much, as long as the camera works. I'd rather have a camera with character, anyway.
Connor, age five-and-a-half, called me upstairs after lights out tonight because his feet hurt. Totally legit reason, so I headed upstairs to dose out some Tylenol and rub his feet. On my way up, I yawned mightily and stretched my arms over my head.
"Maybe you should go to bed a little early tonight," my son suggested.
I think he might be onto something there.
Happy birthday, @schavitz! Today is also my boss's birthday and George Takei's birthday, so you're in good company. Enjoy your day!