Bought dried porcini mushrooms from Amazon to try in a new recipe I found. Now can't recall where I found the recipe, where I saved it, or what it was called.
Such is the danger of saving recipes in a three-ring binder, in Pocket, and by putting sticky notes on cookbook pages.

[Taken 23 November 2017]
Happy birthday, Mom! Love you bunches. It's been awesome having you nearby for the past four years.
First off: no one asked me to review this box. I just decided that I really like some of the items so much that I wanted to share.
Second: I should note that my first and longest-running subscription box is the quarterly Pusheen Box, which is quite a bit different from FabFitFun. the Pusheen box tends to be filled with cute (but cheap) products mostly manufactured in China, featuring Pusheen the Cat. I've enjoyed my subscription, but I'm actually getting ready to cancel, as a year and a half of quarterly Pusheen Boxes is probably enough cute kitty cat merch for one household.
The only other subscription box I've tried is ButcherBox, which delivers grass-fed beef, chicken, and pork straight to my door every other month (or every month, if we suddenly start eating much more meat than we do right now).
I learned about FabFitFun from dooce (as did, I'm guessing, scores of other middle-aged moms). I figured that, for less than the price of a Pusheen Box, I'd be getting some stuff I know I'd use (as opposed to cute tchotchkes and kitty-themed household items that I may or may not roll my eyes at).
As it turns out, I did get some stuff I could use.  (more…)
Fowl & Fodder Downtown features a burger topped with ancho barbecue sauce and tomato jam (among other things). I haven't tried it myself, but my two coworkers who have claim the tomato jam is too cloyingly sweet for the burger.
That got me to thinking… what better way to "put up" the remainder of my tomato surplus than jamming? Refrigerator jam, specifically — I'm not equipped for preserving (aka canning). Not yet, anyway.
I found a recipe for tomato jam from The Kitchn and decided to try it out this evening. I only made a couple minor adjustments by necessity: I used my beefsteak tomatoes plus a few SunSugar cherry tomatoes instead of the suggested Roma; I only had light brown sugar instead of dark brown; and I always keep a jar of chopped ginger in the fridge, so I used that instead of fresh grated.
Oh, good lord. I have found my new favorite condiment.
I can see myself putting this on every burger and sandwich I ever make from now on — until it's gone, that is, or unless I'm already using my homemade roasted tomato barbecue sauce.
Tomato jam plus barbecue sauce… Yeah, I'm gonna have to try that burger at Fowl & Fodder.
Connor convinced me that late Saturday morning would be a great time to head to the park. We ran through leaf piles along the paved trail, then took a nature walk through the woods (and got a little turned around on the purple trail, which didn't take us back to the playground like we thought it would).
We found a tree stump that looked like a tooth…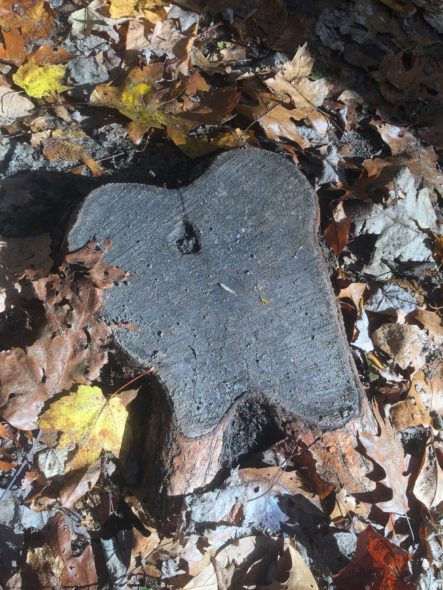 …and Connor climbed a weird bulbous outgrowth on a tree we came upon while we were trying to get back to where we started.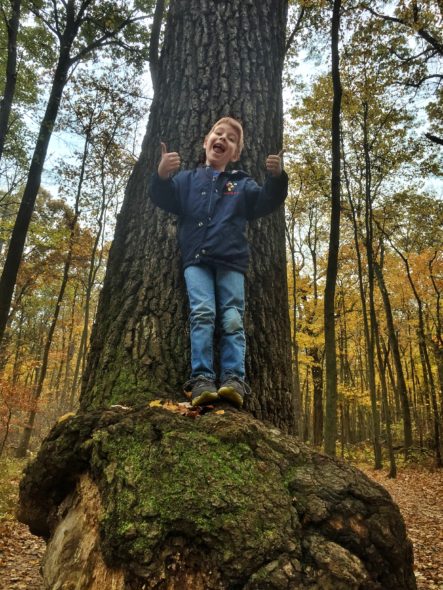 Eventually, I acquiesced to giving him a piggyback ride to the trailhead. Then he wanted to explore the visitors' center before we headed home for lunch — which was totally awesome, because I hadn't realized there was an indoor area for birdwatching. Definitely going to be checking that out again.
That park trip with Connor was probably my favorite part of the weekend… purple trail confusion and all.