Down 0.2 lbs over two weeks at today's #weightwatchers weigh-in. I'll take it.
I learned about the Fujica Half while researching sub-miniature and half-frame cameras online. I don't recall exactly where I learned about this camera, but I decided I had to have one. After watching eBay for a while, I got one for $46.75 shipped this past January.
It arrived in the mail on a Saturday afternoon. I opened the package like it was Christmastime (except more carefully), and was immediately pleased with the size and heft of the camera. It didn't look like the built-in selenium light meter was responsive, though, which was a bummer. No worries — I'd just forked over some money-well-spent for a battery adapter for cameras and accessories that were build to use mercury batteries, so my Kalimar accessory shoe light meter would serve me well. I was so excited, I loaded up the camera and took it to dinner to try it out.
In the car en route to our favorite Vietnamese joint, I realized that the needle in the viewfinder was moving, and the on-board meter was functional. I compared the readings between all three meters — the Light Meter app on my iPhone, the Kalimar, and the selenium cell meter — and they all read 1/30 sec at f/2.8 indoors. (Which is admittedly on the low end of not needing a tripod, but I was anxious to start shooting with this little camera, so I took a chance.)

[Taken 21 January 2017]

[Taken 21 January 2017]
(more…)
OMG, where has @altonbrown's crema recipe been all my life? I could eat it on just about anything. Or, you know, just straight up.
Everyday Cook by @altonbrown will be the source of new-to-me recipes number 23, 24, and 25 for this year. Kid-friendly dinners FTW!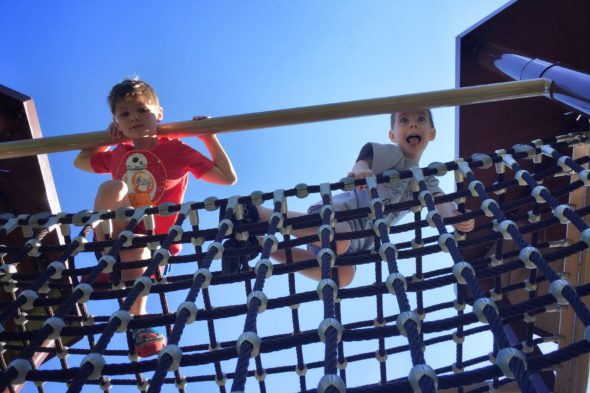 Connor met a new friend at the playground today who taught him how to climb up the outside of the rope bridge. His new friend — a first-grader — is clearly more of a risk-taker than he is, although Connor was totally stoked to be up on top of the net like a big kid.
Me, I did my best to play it cool and supervise without freaking out. My son needs to learn what risks are OK and how to get over his fears — and I need to learn when to give him space and how much — and the playground is the perfect place for that.
Another mom helped him down when he was scared and I was on the ground trying to talk him through it. I was glad for the adult help, but had also kind of wanted him to figure it out for himself. Even though he got help down, though, Connor considered the net-climbing a rousing success and the highlight of his day.
Part of N. St. Clair St. was closed today while workers poured concrete in the mid-to-upper floors of the Tower on the Maumee (formerly Fiberglas Tower) in downtown Toledo.
There's nothing quite like researching a Mark Twain quote, only to learn that he never actually said it. t.co/MfA7wwVXFq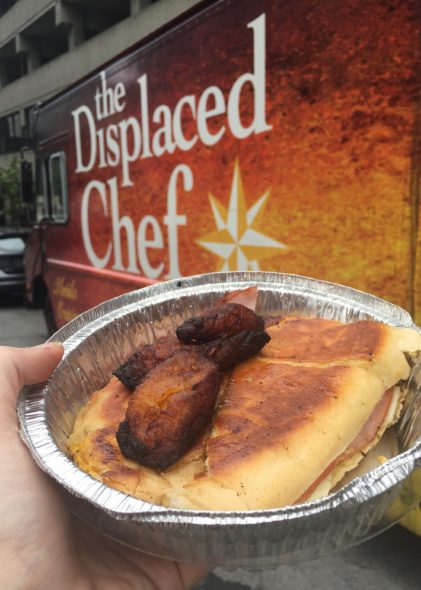 Just like in Ybor City, proclaims the menu. Alas, during the years I lived in the Tampa area as a kid, I only visited Ybor City once, on a field trip, and I'm pretty sure I didn't have a Cuban for lunch.
My Cuban from The Displaced Chef was delicious, but not as filling as I'd expected, and maybe not delicious enough to justify the wait. Seriously, I wonder what everyone else was ordering, because people who had been two or three spots behind me in line got their food before I did.
I wish the food truck had some more of the Cuban dishes served at the sit-down restaurant in Perrysburg. I'd gladly wait a few extra minutes for an order of piccadillo or ropa vieja.
If I hit up The Displaced Chef again, maybe I'll order one of the platos. Or just get an order of fried plantains. Om nom nom.