After a few years of sewing garments, I decided it was finally time to participate in Me-Made May. To quote Zoe, the creator of the challenge:
Me-Made-May is a challenge designed to encourage people who make their own clothes to develop a better relationship with their handmade wardrobe. You set the specifics of your own challenge to make it suitable and useful for YOU. However, one very common pledge is for a participant to aim to wear one self-stitched or refashioned garment each day for the duration of May.
I've made a few garments for myself, but not nearly enough to last me through an entire month. So, my challenge for Me-Made May was to wear each of my me-made items at least once during the month of May, and to take notes on what I like most and what I would improve about each garment.
I chose not to photograph each garment, so I'm not planning to post a slideshow of my me-mades, but I will recap my notes and future plans.
My absolute favorite makes
Colorblock 3/4 sleeve knit tunic
Made in March 2020 from double-brushed polyester knit, with a pattern adapted from Simplicity 1199. Double-brushed poly knit has to be one of my favorite fabrics to wear, although the fact that it's polyester (extruded microplastic, as I understand it) puts it lower on the "sustainable sewing" preferred fabric list. This shirt is one of only a few that I'm OK with wearing to the office.
---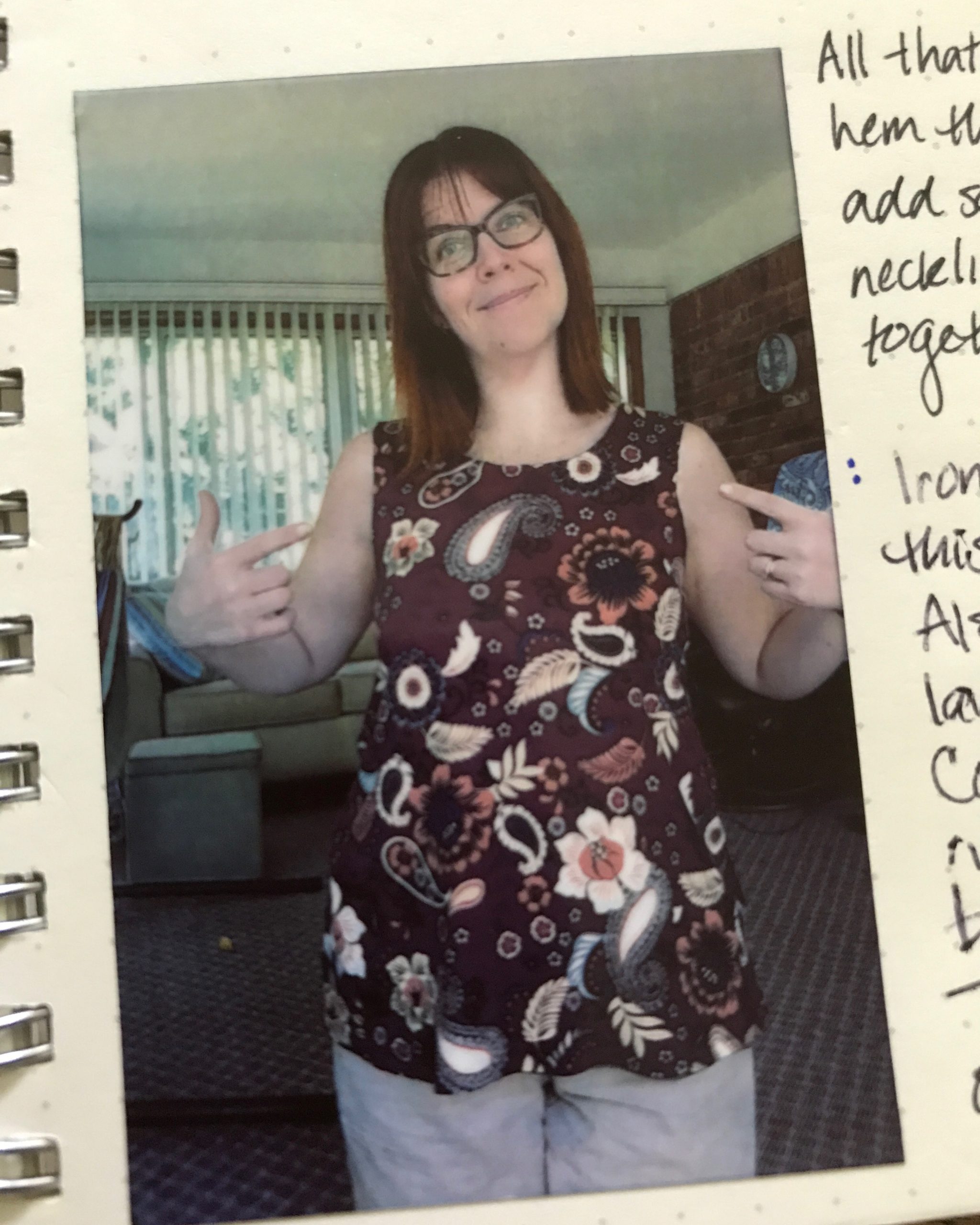 Reversible sleeveless knit tunic
Made in May-June 2020 from double-brushed spandex poly knit, copied from my favorite sleeveless knit tunic. The first draft of this was made from woven fabrics, and I hadn't realized that there was a bit of negative ease in the bust of the original blouse, so the first version got unpicked to use for something else later.
This blouse and its predecessor were my first attempt at the burrito method of sewing a lining into a bodice. The draft version ended up looking like a mobius strip at one point, so I'm glad I messed up on the woven version instead of the knit version — much easier to unpick.
---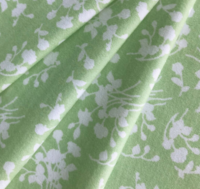 Short-sleeved knit nightshirt
This green and white floral double-brushed polyester knit was on sale at Joann's online back in June 2020. While I originally bought it because it was double-brushed poly for a good price, the color and the print have definitely grown on me.
I copied a nightshirt I had bought at a Goodwill when I was visiting my mom in Florida that ended up being one of my favorite nightshirts ever. Alas, I'm not OK with wearing a Christmas-themed nightshirt year-round, so I decided to make a holiday-neutral version.
I wear it ALL THE TIME. That is, unless I'm wearing my…
---
This was my first foray into sewing from a commercial pattern, back in January 2019. It's oversized, but oh-so-comfy. I added side-seam pockets to the McCall's 2950 nightshirt pattern, and I have every intention of making myself another version for next fall. Perhaps the next one will be a medium-weight flannel or fleece, since sleeping in polar fleece is essentially wearing another blanket to bed.
---
Close, But No Cigar
Tee shirts — I've sewn two sleeved and one sleeveless (which only happened because I accidentally attached the neckband to an armhole), and they've come out in varying degrees of wearability. My first attempt showed my inexperience with sewing knits; the second and third were wearable, but ill-fitting.
Drop-waist dress (Simplicity 9664) — The draft version I made from a thrifted green bedsheet; Version Two was black stretch twill. I discovered that I'm not a huge fan of the gathers (either the act of creating them or how I look when wearing them). I also discovered that I need to start incorporating a Full Bust Adjustment (FBA) into garments I make for myself. I looooove the patch pockets, both the size and the positioning, and I especially love the length of the twill version. However, the cotton bedsheet was too thin and the twill was too thick. I could see myself making a third version from a medium-weight knit, using fewer gathers and adding a FBA.
Shorts — I know that each of us has a unique shape, but I think my shape must be especially unusual, given the difficulty I have in finding pants that fit. I've succeeded in making a single pair of knee-length shorts that kinda-sorta fit, and even those don't fit very well. They fit well enough to be my gardening shorts, but I wouldn't wear them out of the house.
---
Missing Me-Mades
Underwear (although my first pair is in progress!)
Pants (see fit issues referenced above)
Skirts
Outerwear and cardigans
Tights, leggings, and socks
---
Participating in Me-Made May has shown me how much I do enjoy wearing garments that I've sewn for myself, and how much I would benefit from taking a long, hard look at my wardrobe in general. I never would have thought that I'd be one to sew my own clothes… but here we are.
Maybe I'll have enough me-made clothes by next May to wear one item every day!